As an OT, I love the new interest in fidget toys. Many of them promote hand strength, increase a child's ability to focus for longer and can even help you deal with stress. I have found them to be helpful for children with a wide range of learning challenges and anxiety. However, not all fidget toys work for everyone and some work better than others. Here is a list of some of my favorites and why. Each of these is small, you can use them any time, anywhere.
This stuff is wonderful for almost any reason a person needs a fidget. It can be twisted and pinched and squeezed in so many ways that it relieves anxiety and stress. It has so many ways you can work with it. The parts of the brain that want to fidget can be fully satisfied when playing with this stuff. The possibilities of what to do with it are endless but it requires little thought. So it works well for times when the child is listening to a book or having a discussion.
All of that squeezing, stretching, and twisting builds hand strength needed for handwriting, too.
The one real downside is that, if left unattended, a toddler can make a mess with it, just like other kinds of putty or play-dough type materials. It comes with a neat tin for clean up. So keep that out of reach of toddlers.
Crazy Aron's Thinking Putty comes in many varieties, sizes, colors, and styles. You can look for one your child will find fun and engaging. I particularly like the color changing ones. You can challenge your child to work with the putty until it has all changed color from the heat of their hands. The extra time and effort help build those muscles faster.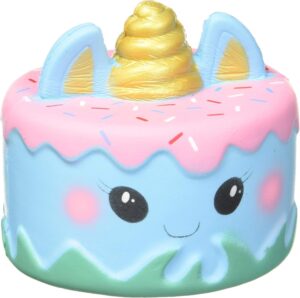 A slow-rise squishy might be the best fidget there is for anxiety and mood management. The sweet little faces and bright colors compress in a smooth motion and re-inflate to be crushed again and again. And squeezing them does increase hand strength. And keeping the hands busy crushing them can help some people focus. The best part of these is that they look like sweet toys sitting on your child's desk or shelf and won't make a mess.
Squishies even come in several shapes and sizes. I prefer the jumbo ones that look like a cake, but there are many animals, foods, and even holiday themes to choose from.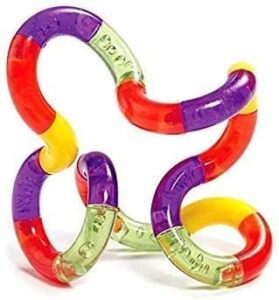 Tangle fidget toys are made from firm, smooth plastic. If your child has a lot of sensory integration issues that affect their enjoyment of putty and squishies, this might be the perfect fidget for them. Tangles bend and twist in the hand and also allow for mindlessly rearranging them. They don't come apart or make a mess and can be used almost anywhere, and by any age. The size and shape of the Tangles promote fine motor coordination, as it is easier to manipulate with the fingertips than with the palms.
In Summary
While many children find at a single fidget toy is their favorite, it is nice to have a selection of fidgets available for days your child is struggling. Having a basket with a few fidget choices available lets your child know that not only is it okay that they can't sit still, but that there are choices to help them deal with their need to move. Fidget toys help children and adults to calm their bodies so that their minds work.

P.S. Here are the links to the different fidget toys I've recommended today.
| | | | |
| --- | --- | --- | --- |
| | by Crazy Aaron's | | by R. Horse |
| | by Anboor | | by Tangle |
** Our business does receive a small percentage of sales made through links on this page to Amazon as part of the Amazon Affiliates program and through links to Bookshop as part of the Bookshop Affiliates program. If you chose to purchase through one of these links, please know that we appreciate it. Thank you!